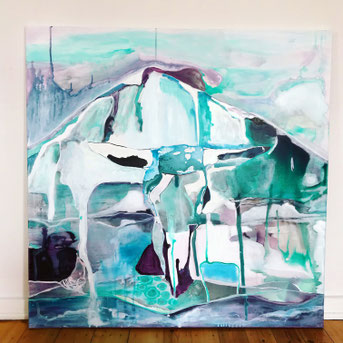 "Bull of the Glaciers", is a new painting in the Bull Series.

The idea came to me while at the Elbphilharmonie, where I work in the foyer.
I was working the champagne-bar, waiting for guest but no one came so I had plenty of time to think about a new painting. Equipped with a ball pen and napkins I was sketching out ideas.

It was winter and I had been intensively thinking about glaciers and the tender beauty of melting ice.
I had also seen glacier-watercolor-works by Olafur Eliasson, which I really liked.
For some reason my skull horns snuck right into the glacier idea. Don't ask me why, I have no idea. But in my mind glaciers and bull skull horns go rather well together.

I was brainstorming titles (by the way I never work in this order) which resulted in something like Bull/Lake/Glacier. It turns out there is a Bull Lake Glacier, in Wyoming, and my sketch resembled a Google-photo of this mountain. Once again this goes to show, ideas are free!

So this painting is called "Bull of the Glaciers" and it very much would like to decorate your walls. Buy Now