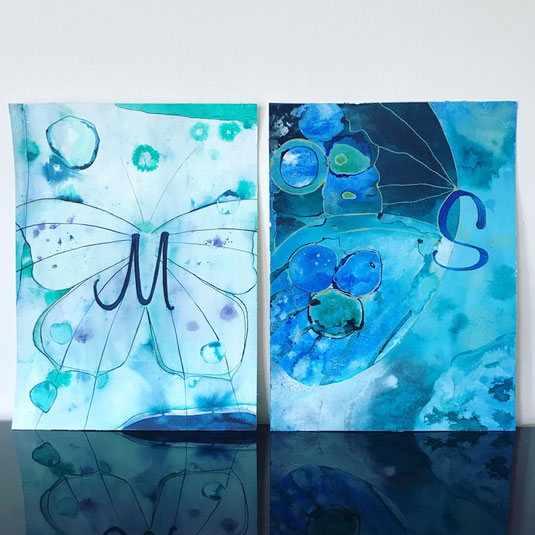 The "Nursery Collection" is complete!

This project took a long time making and now is ready to hatch and flutter into the SHOP

Lots of dreamy butterflies with bodies made up of monograms would love to grace cozy nurseries and children's rooms. They were created with the intention to mix up the sea of big box store decor and initial art. They will be available as prints in the size of DIN A3, greeting cards and smaller posters.

Butterflies - colorful masters of metamorphosis - are known to symbolize transformation, ease and reincarnation.

In roman and greek mythology the wing of a butterfly often stands for the soul, since the antient greek work for "psyche" represented the butterfly and the soul of the dead.

These delightful beings give us playfulness, lightness and joy. When spring comes around they come out to play and bring with them a carefree existence. Winter, a time of endurance in the cocoon, is followed by rebirth. The butterfly - is there a more fitting symbol for a child's space?

Are you looking for a one of a kind baby shower gift, christening present or birthday greeting?
Then you're in the right place. The print collection will drop soon!

Would you be so kind to pass on the news of this collection? I would really appreciate it, thank you! (There is a 10% discount on shop products received by signing up for the Atelierpost)

Share now

These butterflies want to spread their wings and bring love and joy to all children and their parents - thank you for sharing the collection with you family and friends!